Diisocyanates are a group of substances primarily used in the manufacturing of polyurethane plastics. Many of these substances are allergenic and can cause severe asthma. Starting from August 2023, new training requirements will be imposed on workers handling products containing 0.1% or more free monomers of diisocyanates.
Many countries have had regulations, such as training requirements and medical checks for these substances for many years. For EU countries these will be expanded in August to incorporate the stricter requirements outlined in REACH.
Diisocyanates are organic compounds that contain two isocyanate groups. Isocyanates are commonly used in the chemical industry, as well as in places like auto repair shops. Diisocyanates are used in the production of polyurethane plastics, which can be found in products such as paint, coatings, foam plastics, and adhesives. Due to their potential health hazards, even in very small amounts, there are regulations governing their handling.
Automatic Matching with Restriction and Prohibition Lists
In our chemical management system, iChemistry your products are automatically flagged if their use requires training or medical checks.
New EU Regulation 2020/1149
To further enhance workplace safety, stricter requirements are now being imposed for products containing 0.1% or more diisocyanates throughout the EU.
If a person in Sweden working with or supervising work involving diisocyanates does not have the required training, a penalty fee of 10,000 SEK per person will be imposed.
In many countries, including Sweden, there are already regulations for allergenic chemical products (including thermosetting resin and diisocyanates), but the new regulation imposes stricter requirements specifically for diisocyanates.
The EU regulation lists 43 points outlining the content of the training. The employer must ensure that industrial or professional users have completed training on the safe use of diisocyanates with an approved outcome before they are allowed to use the substances or mixtures. The training requirements apply to substances or mixtures where the concentration of diisocyanates as such is 0.1% by weight or more.
For those who have previously undergone training, it may be necessary to undergo a new training before August 24, 2023. This is because many previous trainings do not meet the new, stricter requirements. The new training requirements include three levels of training: general training, intermediate level training and advanced training.
The EU regulation requires, among other things, that additional topics be covered in the training, and that the training be tailored to the company's products and how they are used in work processes. If you undergo training that complies with the requirements of the REACH regulation, you will also meet the requirements of the Swedish Work Environment Authority (Arbetsmiljöverket). 
To be on the safe side, we recommend contacting your training provider to inquire if your previous training meets the requirements if you are uncertain. As before, the training will be valid for 5 years from the date of completion. 
Learn more about our curing plastics training!
In order to handle certain thermoplastics and allergenic chemical products, you must have a valid training certificate. Let us help you get one for a safer work environment!
Why is training necessary?
A curing plastic training is required because many of the substances used in the production of curing plastic products are harmful to health and can lead to asthma, allergies, dermatitis, as well as eye and nerve damage. Exposure to certain curing plastics can also be carcinogenic.
If you work with curing plastics, it is important for you to be informed about the health risks in order to know how to best protect yourself and your surroundings. This should be done through regular curing plastic trainings.
Diisocyanates not covered by EU requirements
Certain diisocyanates are not subject to REACH restrictions, and for these, it is the national environment authorities that imposes requirements for training in chemical occupational hazards.
In Sweden this is Arbetsmiljöverket, and applies to oligomeric or prepolymeric diisocyanates labeled with H317 or H334, as well as diisocyanates formed during hot work processes. In cases where they contain less than 0.1% monomeric diisocyanates, they are not subject to the training requirements of the EU regulation.
To be certain that you follow all national regulations, make sure to check with your country's environment authorities.
Requirements for Medical Examination
In Sweden, a fitness assessment is also required for anyone working with chemical products containing diisocyanates. A medical check-up needs to be conducted before commencing work, and it must be repeated at intervals of no more than two years.
A new medical examination should also be conducted within three to six months from the start of work. If the doctor determines that an individual is not fit for the task, they are not allowed to work with diisocyanates. The employer is obligated to ensure that these examinations are carried out and that documentation is maintained in accordance with Section 22 of AFS 2019:3 on medical checks in the workplace.
If someone working with diisocyanates in Sweden lacks a medical certificate, a penalty fee ranging from 15,000 to 150,000 SEK will be imposed. The size of the fee is determined by the number of employees under the employer.
Do you have any questions regarding allergenic chemical products? We are here to assist you!
Our EHS consultants have extensive experience working with chemical products and are here to help you enhance safety and comply with legal requirements. We also offer training in environmental and workplace regulations, REACH, chemical management, risk assessment, as well as practical utilization of our systems, iPublisher, iDistributor, and iChemistry.
If you have any inquiries, don't hesitate to email us directly at consulting@intersolia.com.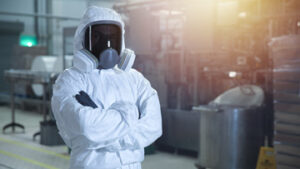 (SWE) News in the legislation regarding diisocyanates